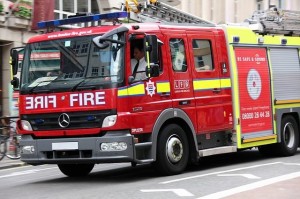 The other day while my husband was at soccer, I was home while my daughter was in bed sleeping. I was prepping meals for the next day which included cooking up some bacon. I always cook my bacon on parchment paper in the oven. When it was done, I removed the greasy tray only to have the parchment paper slide on the tray splashing hot bacon grease down my forearm and hand.
Though it hurt, a lot, I wasn't in any immediate danger but it did get me thinking about me being alone with my daughter and what I may do if it was a bigger deal. How prepared would she be? In our specific case, she's only two so there's not a whole lot she can do but as she gets a little older there will be things she needs to learn and understand to help prepare for emergency situations.
First Aid Help
Every home should have a first aid kit in an easily accessible location. Not just for the kids but in case of actual emergency you'll want to get to it, fast! Our first aid kit is in a bright red zippered bag in our hall closet. It is sitting on the lowest shelf where, if I needed my daughter's help she would be able to understand based on simple commands like ''get red bag''. I've already started explaining that we don't use the bag unless we absolutely need to if we're hurt (to limit how often she attempts to access it).
Emergency First Aid and CPR
I think it is important that both children and adults take an emergency first aid and CPR course. This was part of my babysitting course when I was eleven years old and have maintained it since. Not all kids take this course, nor do they necessarily maintain their certification. More and more employers are requiring this upon employment and rightfully so, you never know when you may find yourself in a situation that may need either CPR or emergency first aid and being equipped will only help the situation.
Fire Exits
Children should know where to go in case of fire. Stress how important it is that they get out and not attempt to take anything should they find themselves in a situation.
911
When I was in the fourth grade, my friends thought it would be funny to prank-call 911. Yeah, we learned our lesson really fast. I seem to recall my friend's mom (the chaperone) making us to yard work for her to pay the fine she was charged. To be fair, I really didn't understand 911 or the real importance of it. When children are young, talk to them about what it is and how and when an appropriate time to use it is. As they get older explain the difference between true emergency and non-urgent care (911 vs. a call into a family doctor).
Having an emergency at home can be a scary and stressful time, more so on children because they often don't understand what's going on. If you prepare them for such situations it can make a stressful situation much better.
How have you prepared your children for an emergency situation at home?