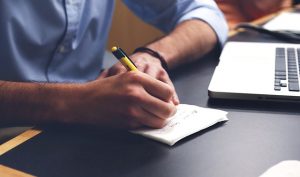 With a national unemployment rate of 4.3%, it's safe to say that there are still millions of Americans out there that could use a job and financial advice. Unlike living on disability, Family Leave, or retirement, most aren't usually prepared for being laid-off or fired. When your regular income stops rolling in, the ability to pay your bills and even afford basic living expenses can be challenging. Many end up falling deeper into debt as they wait months, sometimes years to secure a new job.
So, how can you survive financially without a regular income? Below are some pointers to consider:
File for Unemployment Right Away
Once you become unemployed, the first thing you'll want to do is file for unemployment. While not everyone qualifies for unemployment, if you were fired or laid-off for reasons beyond your control, you can be approved. Unemployment benefits will provide you with some income (although not as much as your job income) to help you stay afloat as you search for a new job.
You can check the department of labor in your state to find out what the unemployment eligibility requirements are. Since it takes about six weeks to receive funds, the sooner you file, the sooner you can close the financial gap.
Review Your Expenses
If you weren't into budgeting when you were working, you're going to want to get onboard now that you're unemployed. Gather all your bills to determine where you are financially. Are you behind on your bills? Do you have money in savings to cover recurring monthly bills?
Eliminate Unnecessary Spending
Things like food, clothing, and housing costs are unavoidable – even if you're unemployed. However, are there some things that you can eliminate from your budget that will give you more money to spend on things you really need? This can include cable subscriptions, data plans on your cell phone, entertainment expenses, and so on.
Contact Creditors and Service Providers
You don't have any income now, and you're not sure when you're going to get more. The best thing you can do is reach out to all your creditors and service providers to update them on your financial status. Be honest and upfront, they understand life happens. From there, you can set up new arrangements that will save you a lot of money and more importantly, keep your creditors from taking further collection actions on your accounts.
Stop Using Credit Cards
You won't be able to pay your credit card bills without your income; therefore, you need to stop using credit cards. Stick to cash now and just focus on paying the minimum balance on your credit cards.
Take Advantage of Opportunities
Believe it or not, there are a lot of opportunities for the unemployed that can help them manage their finances until they're back on their feet. Your city or state should have programs that include free health insurance, food stamps, cash assistance, free schooling and training, lower cost car insurance, and even rental or mortgage assistance. Now is a good a time as any to start filling out those applications to see if you qualify. If you do, you could essentially save yourself a lot of money.
Surviving unemployment will be different, but not impossible if you keep these money management tips in mind. If you find that you're still having a difficult time staying afloat, consider looking for odd and end jobs that you can do just to bring in extra money while you work towards finding employment. It may take time to find employment again, but before you know it, you'll be back on your feet.
Like Us? Sign Up!
Subscribe to Kids Ain't Cheap and get our latest content via email.