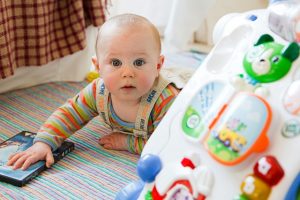 Babies do not come with a user's manual, but one thing that's going to be on your mind when you bring your baby home is keeping them safe at all times. Here are some tips on keeping your child safe from the time you bring them home until they are ready to go to school.
Safety In Your Home
Install smoke alarms on every level of your home. Test the batteries every month.
Set hot water heater to no more than 120º F to prevent scalding.
Install baby gates at stairs and exits, including patio doors.
Put child-proof locks on any cupboards containing chemicals.
Store medicines out of reach.
Secure curtain and blind cords.
Install child safety covers over electrical outlets.
Put all breakable objects out of reach.
Place non-slip backing under all rugs.
Keep pet food and water off the floor between feeding times.
Remove poisonous house plants.
Safety In The Kitchen
Keep your child out of the kitchen or in a highchair when you are making hot drinks or cooking.
Always turn pot handles away from the edge of the stove.
Keep dishwasher and oven doors closed.
Keep sharp objects such as knives and scissors in a latched draw.
Replace tablecloths with non-slip mats.
Tie all plastic bags and keep them out of reach.
Keep hot drinks away from the edges of counters and tables.
Keep kitchen garbage in a latched cupboard or outside.
Keep a fire extinguisher in the kitchen. Check it every month.
Safety In The Bathroom
Install a latch on the outside of the door so it is always locked when not in use.
Keep all appliances (shavers, hair dryers, curling irons) out of reach.
Keep all medicines in a locked cabinet.
Put child-proof locks on any cupboards containing chemicals.
Keep the toilet lid latched when not in use.
Safety In The Baby's Room
Set the cot mattress to the lowest level so your child cannot climb out.
Check the crib for loose parts each time it is moved.
Keep the crib rail in the highest position when our baby is in the crib.
Do not leave bumper pads, clothes or toys in the crib.
Don't position your crib near a window that can be opened.
Keep you diaper pail in a latched cupboard.
Keep all diaper cream, pins and cleansing towels out of reach.
Safety In The Car
When you're taking the baby out in your Dodge Grand Caravan make sure you have a suitable safety seat. Today's technology has created a great range of smart baby car carriers that will install themselves safely, make sure they are always correctly attached and balanced and let you know if there is a problem. With a smart seat in your car, you can always be sure that your infant is absolutely safe.
Follow these safety tips and you can rest assured that your youngsters will always be safe around the home and in the car.
Get Your FREE Book Now
Get a copy of "Teach Your Kids About Money," a Kids Ain't Cheap ebook, FREE by signing up.