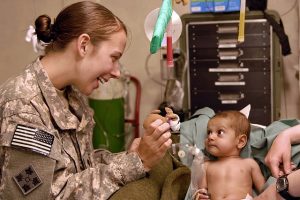 It's often tricky to navigate the health insurance landscape. Many of us have tried and failed to find the perfect health plan for our family. If you've had a difficult time picking a good family plan in the past, please use this brief guide because it's designed to help you make the right choice.
What Health Insurance Marketplace Do You Belong in?
For most people, they'll get their health insurance through their employer. Some of us do not have this option though. In cases like this, you'll have to get health insurance through government insurance exchanges.
Some people prefer to keep their options open. They want to look at all available health insurance options even if their employer provides it. Just know that since most employers pay part of the insurance premiums, choosing an employer insurance plan is usually the least expensive way to get family health coverage.
If you cannot get health insurance through your job, the Affordable Care Act marketplace is a great location to discover the available family health insurance plans. Visit healthcare.gov, enter your ZIP Code, and find out more about your available options.
Consider Different Health Insurance Plans
As you shop for health insurance for your family, the typical common plans include EPOs, PPOs, HMOs, or POS plans. Depending on which type of plan you choose will determine how much you end up paying out of your own pocket, it will affect which doctors you can see, and more.
As you look over your options, take a look at each plan's summary of benefits. It should be easy to find this information online. By reading over the summary of benefits, you'll discover exactly what you get with each plan, and this will help you easily narrow down your choices.
According to Insurance.Me, a website sharing cheap insurance rates online, "There are a lot of options when it comes to choosing a company for health insurance, but you have to choose one that fits your needs."
Consider Out-Of-Pocket Expenses
When considering all of your health insurance options, one of the most important things to keep in mind is how much you'll have to pay out of your pocket. Read over each plan's summary of benefits. In this summary, you'll discover precisely what they expect you to pay for out of your own pocket.
For some, we prefer to pay more out of our pocket and pay lower insurance premiums overall. For others, you'd rather pay higher insurance premiums and less money out of your pocket. So it's important to find the plan specifically catered to meet your needs.
If you're going to have a tough time paying higher monthly premiums, you should consider a plan with higher out-of-pocket expenses. If your family is in good health, this certainly could be the best way to go.
As a bit of a final note here – consider supplemental medicare insurance if you have a senior in your family who might need it.  Most of the time younger people often forget that preserving wealth in old age can be challenging.  Catastrophic health conditions can wipe out even modest fortunes and old age transfer programs like social security or medicare often don't cover what you need.  Consider getting supplemental insurance if you or your elderly relatives can afford it.
Conclusion
Please use this brief guide to determine the perfect health insurance plan for you and your family. Use this information wisely to make the right choice.
Like Us? Sign Up!
Subscribe to Kids Ain't Cheap and get our latest content via email.