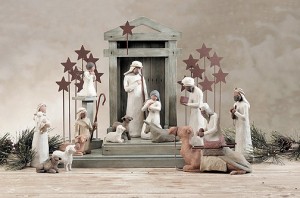 I titled my post Christmas bliss because one of the definitions of bliss is — great joy! That is what we all should feel on Christmas. For those of us who honor the true meaning of Christmas, we are celebrating God's greatest gift to us — the birth of his son, our Lord and Savior Jesus Christ! Because of this, there is so much to celebrate and be thankful for on Christmas Day.
Unfortunately, for many people it can also be a really stressful time and why wouldn't it be? We are bombarded with commercials of people giving cars with big red bows on them, a zillion different toy commercials that have our children repeating over and over, I want I want I want and if he didn't go to Jared well, then maybe he's just not that into you. Others of us measure our Christmas success by how many different kinds of Christmas cookies, candies or other goodies we can mass produce in a month. What it boils down to, is many of us simply try to do too much and want everything to be as perfect as possible. Then, when we fall short — well, we feel like we have failed.
Please believe me when I say that there have been many Christmases where I mailed presents late, got caught up in the stress or wished I had just done more — but you know what? Christmas still came and I still felt great joy when the day finally arrived.
My Favorite Christmas Story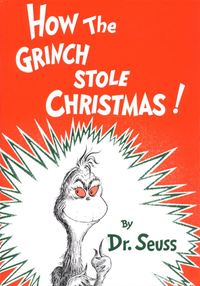 One of my favorite Christmas stories – How the Grinch Stole Christmas – illustrates this point beautifully. It has such a great message and one of my very favorite parts of the story is when the Grinch is listening for the Who's to be sobbing and sad because all of their Chirstmas decorations and presents have been stolen by him but when they wake up they aren't sad. They feel great joy and instead of crying, the Grinch hears singing and you know what…
"Christmas came just the same…It came without ribbons. It came without tags. It came without packages, boxes or bags." Then the Grinch thought of something he hadn't before! "Maybe Christmas he thought doesn't come from a store. Maybe Christmas …perhaps…means a little bit more." ~ How the Grinch Stole Christmas • by Dr. Seuss
Making It So Everyone Can Enjoy
So how can we enjoy all that this blessed season has to offer and still keep things in perspective. I touched on this a bit in the post I wrote last year The Magic and Meaning of Christmas and I'll provide a few simple tips on how you can feel the true joy of Christmas through and through.
Scale it Down a Bit
Don't overdue by trying to be perfect. Don't overspend, don't over plan just don't over extend yourself to the point where you and your family are stressed and miserable. See those gingerbread cookies pictured above. I made them. They aren't perfect (gingerbread heads were rolling) and even though I had wanted to make about 3 different kinds of cookies, I got so stressed out making those that I decided not too. This year St. Nick is going to have to be happy with the cut and bake cookies from the store. Whew! What a weight off my shoulders.
Give Generously
This can be of your time, talent, heart and/or your treasure. Whenever you give, give with love and not out of a sense of obligation. I just read a wonderful story about an anonymous person who paid off a bunch of layaways for some people at Kmart. It honestly brought a tear to my eye. While the season can sometimes bring out the worst in people, it also certainly brings out the BEST in people too. You don't have to spend money to be generous, you can volunteer to help with a toy drive, ring the bell for the Salvation Army, work in a soup kitchen or winter shelter, there are so many things you can do and it will really help you to feel the true spirit of the season.
Simplify Gift Giving
If you have a big family you can draw names or choose just to buy for kids. There are lots of fantastic DIY Christmas present ideas and photo gifts are fun, special and usually economical.
Stay Home
Traveling to see family is something that many people do but sometimes it just can't happen. Traveling (especially with children) is stressful on a normal day but during the holidays you multiply that by about a thousand! I'm not just talking about traveling out of state either. I know many families have several places they need to be. Consider hosting your own celebration, trading off every other year or visiting one family on Christmas Eve and one Christmas Day. If you have a lot of invites it is a huge blessing to know so many people love you and want to spend the holidays with you, but it can be tough too.
Celebrate the True Meaning of Christmas
If you are feeling stressed or getting caught up in the holiday craziness instead of appreciating all the beauty, wonder and magic think back to that first Christmas. When a young mother gave birth to her sweet baby boy in a barn. She and her husband didn't have much but they wrapped him in some blankets and laid him on soft clean hay in a manger. Simple yet miraculous.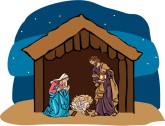 John 1:14 — The Word became flesh and made his dwelling among us. We have seen His glory, the glory of the one and only Son, who came from the Father, full of grace and truth.
I wish you and yours a very Merry Christmas!!!
What are you doing this year to eliminate holiday stress?