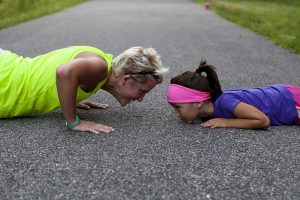 As a busy mom trying to juggle work and family commitments on a daily basis you will probably consider your fitness and health to be some way down your list of priorities, but it's not a good idea to forget about looking after yourself because it can come back to bite you at some point.
Here are some tips on how to save some of your energy from the chaos of raising a family and keep your fitness and health levels where they need to be, including some sneaky ways to get some exercise in even when you think you don't have time for a workout and an essential ingredient to help you stay healthy and energized.
Find ten minutes for a few quick exercises
If the thought of scheduling a session at the gym into your hectic schedule is putting you off even contemplating any sort of exercise regime the trick is to steal a quick ten minutes in the day and see the results take shape in a matter of weeks.
Try some chair dips, for example, which involve sitting on the edge of a sturdy chair with your hands positioned next to your hips. Next step is to slide your bottom off the edge while bending your elbows to a ninety-degree angle. Repeat the exercise about ten times before moving on to the next task.
What you are doing is repeating the gym experience by performing your workout moves like a circuit, but the great thing is you don't have to waste any time getting to the gym.
You can also use the chair to help you perform some chair squats, remembering to bend your knees without actually sitting on the chair during the routine.
Playground workout
Mom's are naturals at multitasking so you should also be able to find a way of letting the kids let off some steam in the park while you keep one eye on them and do some quick exercises at the same time.
A quick workout maneuver would be to do some butterfly abs. Lie on your back with the soles of your feet touching and facing each other, with your hands behind your head lift your chest and shoulders up before releasing back down again.
Repeat this ab-tightening routine about a dozen times and you will have managed a quick bit of exercise in a matter of minutes while the kids play under your watchful eye.
If you are going to do some outdoor exercises you might want to learn more about a useful weather app that will tell you if the conditions are going to hold and if you might need to bring some sunscreen.
Keep hydrated
One of the most obvious tips for keeping your health in good shape along with maintaining a level of fitness is to make sure you drink plenty of water.
A lack of water can quickly lead to dehydration issues such as exhaustion, headaches, and a noticeable absence of energy, so do yourself a favor and look after yourself by making sure you drink plenty of water throughout the day.
Your day might be packed with activities and tasks to chores to get done but don't forget to look after yourself amongst the mayhem.
Get Your FREE Book Now
Get a copy of "Teach Your Kids About Money," a Kids Ain't Cheap ebook, FREE by signing up.