There's a misconception that you need to be rich in order to eat tasty and nutritious food, but it couldn't be further from the truth. Even those on a budget can eat delicious meals that most chefs would be jealous of, without breaking the bank.
If you're strapped for cash, you could start by cooking more at home instead of dining out; however, if you do go out, find the best coupons to make it cheaper. You could eat more plant-based protein and buy frozen foods, which are nutrient-rich for a fraction of the price.
Consider Eating Frozen Fish, Seafood, and Vegetables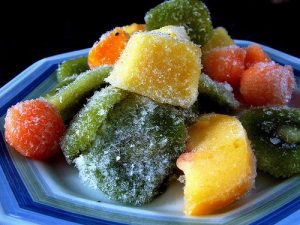 Image via Flickr by Zanastardust
Many people still have reservations about frozen food, but it's been proven that it can be as nutritious as its fresh counterparts. The great thing is that it's a lot cheaper and takes longer to perish. It's the perfect option when you'd like to buy out-of-season fruits and veggies, but the prices are prohibitive.
Eat More Plant-Based Protein
Meat can easily take up a large portion of your grocery bill, and the prices only seem to increase every year. You don't need to turn into a full-on vegan or vegetarian, but eating less meat can help you save money. Just make sure you eat plenty of pulses (lentils, beans, etc.), nuts (almonds, cashews, etc.), and soy products such as tofu and tempeh to keep up your protein intake.
Cook Delicious Food at Home
Eating at home is probably the best course of action if you want to eat well on a budget. If you don't fancy yourself as a Michelin-star chef–don't worry–there's plenty of information online, where even amateurs can succeed. If you don't have time, consider buying a slow cooker and let it do the work while you tackle other chores.
Plan Ahead of Time for Specific Diets
If you have a specific diet you need to follow, you should plan ahead of time to cut costs. Lifesum's diet plans have plenty of information to help you out, and once you know what you need to eat in the coming months, it's just a matter of finding economical ingredients or waiting for discounted items.
Get Your Produce from the Farmers Market
You'll find the freshest and most nutritious produce when you visit nearby farmers markets. The trick is to get there at the end of the day, so that you can find the best deals. Make sure you also go there during the peak season as the prices tend to be more reasonable.
Use Coupons When You Dine Out
It's still possible to go out for a scrumptious meal when you're on a budget, you just need to be smart about it. Many websites offer coupons for specific restaurants if you visit on certain days and times. Sometimes, you might even eat for free on your birthday!
Being on a budget is not an excuse for constantly eating at fast-food joints and buying high caloric food. You can have healthy and tasty meals at home and possibly still have money to spend on activities and entertainment.
Like Us? Sign Up!
Subscribe to Kids Ain't Cheap and get our latest content via email.