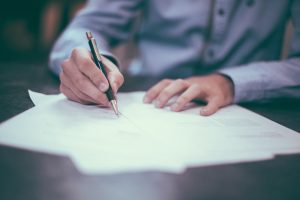 Business Contracts are supposedly watertight. When you sign one, you are committed to providing the service or goods outlined, or someone is committed to providing them for you. Nine times out of then, everyone is happy with this but on that tenth time, you might find you need to able to get out of that contract.
Whether it's because you're paying someone and they can't provide the quality they promised you, or a change in circumstances means keeping up with a contract puts your business in danger, you need an escape route. Unfortunately, breaking a contract often comes with stiff penalties. Fortunately there are some ways to get away without paying.
Foundations
The best ways to ensure you have a way out when you need one start before the contract is signed. Including a break clause half way through gives both parties a chance to assess and decide if they wish to continue with the arrangement.
The best break clauses contain a structured notice period for the withdrawal of service, so you don't find yourself with vital products or services halfway through. The break clause is a chance to begin a phased withdrawal if the arrangement is not working out.
Reading Carefully
If you need to get out of a contract, consult it carefully: most will list actions that constitute a 'breach' of the terms for both parties. If you can produce evidence that your partner has breached the contract, this gives you an opportunity to get out of it. At the very least, it gives you a strong position to negotiate your release from the contract with reduced penalties.
Negotiate
There is every chance that you might want to work with this partner again, even if this contract proves unworkable. Negotiate with them honestly and openly. There is a strong chance you will be able to find a mutually acceptable solution that preserves your relationship for the future.
If you take your concerns to the other party, you may be able to find a solution like a temporary drop or raise in prices, or a change in the quality of the materials or service provided. Don't write off the situation entirely without discussing it.
Impossibility
Finally, if you have lost the ability to fulfil the contract due to circumstances beyond your control (flood, fire and so on), you cannot be penalised for withdrawing. If you're in really desperate circumstances through no fault of your own, don't despair!
Like Us? Sign Up!
Subscribe to Kids Ain't Cheap and get our latest content via email.