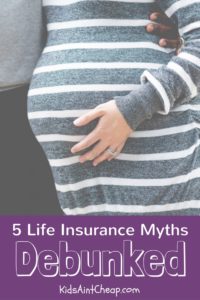 This article was sponsored by SelectQuote, but all thoughts and opinions are my own.
Back when I was in 19 and believed I was invincible, I didn't give boring things like insurance the time of day. Now, 10 years later, I have a growing family I would do anything to protect. My husband and I made it a priority to have the "life insurance" talk a number of times in our marriage. In light of that research, here are some life insurance myths I'd like to debunk for you.
5 Life Insurance Myths Debunked
If you're scratching your head saying, "I'm not even the primary bread winner in our family. This article isn't something I need," hold on. Don't rush off, please. This article has everything to do with you if you're married or have children. Read on to find out how.
Myth #1: Life insurance is a scare tactic that won't actually benefit me.
False.
Countless people benefit from having life insurance when the unthinkable has happened. You think it won't happen to you, but that's why it's unthinkable. It could be a medical diagnosis or a freak accident. The very nature of life insurance is to replace that lost income amidst tragedy so that while you grieve, you're taken care of.
Myth #2: You need life insurance for your whole life.
False.
Many people do feel more secure having a whole life insurance plan in place for the duration of their lives. After doing some research on my own, I found out that you can successfully provide your family with coverage for far less time. It's with one caveat: You'll eventually become self-insured.
What does that mean?
I first heard this idea from Dave Ramsey while I attended Financial Peace University. His idea was to pound out your debt as fast as possible. Get a 15-year mortgage and pay that off quickly, too. Meanwhile, purchase a 20 to 30-year term life insurance policy to cover you.
During this process, you're investing monthly into growth stock mutual funds, your 401k, or whatever investments you've chosen. The idea is, by the time you're in your 40's or 50's, you could be 100% debt free with six figures in your investments. If something happened to you or your spouse, would your family be alright? If your answer is "Yes" then that is the definition of self-insured.
This plan doesn't sit well with everybody, but my husband and I paid off all our non-mortgage debt five years ago, saving hundreds on our term life insurance plan as we invested. We're covered for the next 20 years and can always get more if we need it. So far, this is a plan that works.
Myth #3: Life insurance is too expensive.
False.
Two things here. First, whole life and term life have drastically different prices. I just conducted a quote with SelectQuote Insurance and found some very cheap options. In fact, they informed me that they would find me the cheapest price possible. According to the rates at the time of this writing, if my husband were to take out a $500,000 policy for 20 years, we'd pay $21.00 per month. If I took out a $250,000 policy, it'd cost us $12.00.
I asked the agent, mostly out of curiosity, how much a $1 million policy would cost. "$36.00 per month," he said.
I don't think of it in terms of how much money we'd have. For roughly a dollar a day, my kids can go to college if something happened to my husband. They'd have a roof over their heads. Food on the table. For as long as they need it. I've seen the look on my husband's face when we finalize decisions like these that ensure the children will be cared for. It matters a great deal to him. I, too, can rest a bit easier.
That is a difficult conversation to have with your significant other, but don't let the expense stop you from considering life insurance for your own family.
Myth #4: Stay-at-home parents shouldn't get life insurance.
False.
I'm home with my children full-time while my husband works 40 to 50 hours each week. If I died, who would watch the children? Who would clean the house or cook the food? For $12 a month over the next 20 years, SelectQuote says I can give my husband $250,000 to cover childcare and housing expenses if I die. I can give him time away from work to be with the kids and to grieve. If there would be one thing I could wish for, it would be that my family could spend more time together. A life insurance policy in my name would offer just that.
Myth #5: Insurance salespeople are just in it for the money.
I don't know the heart and mind of every salesperson, but in my experience, that's mostly false.
I just got off the phone with a very courteous and professional agent named Jay at SelectQuote. He listened specifically to what I requested, not trying to up-sell me or talk me out of something.
Side Note: You can begin the quote process online, but the only way you'll receive your quote is by speaking to an agent on the phone.
Within minutes of our phone call, I had my three life insurance quotes sitting in my inbox. Jay offered to follow up with me sometime next week to see if I had anymore questions. For a busy mom like me, it's nice to have someone else in charge of follow ups and reminders.
If you have any interest in learning more about life insurance myths and truths, I've only scratched the surface. Head directly over to SelectQuote's home page or try Jay Mason at 855-587-9489. He didn't ask me to share his direct line with you, but I'm all in favor of offering people a positive customer experience when I can.
Do you have any more life insurance myths to crack? Share in the comments below!
Image Credit: William Stitt (UnSplash)
Get Your FREE Book Now
Get a copy of "Teach Your Kids About Money," a Kids Ain't Cheap ebook, FREE by signing up.