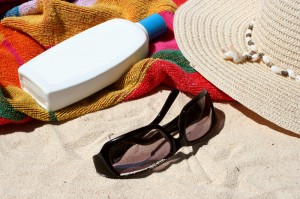 As people head outdoors and participate in their favorite activities, they often end up injured or in pain from a fall or other mishap. While difficult to avoid, you can protect yourself with a few simple items. Here are 10 must-have items to avoid costly injuries when taking part in outdoor activities.
Bug spray: While outside in the summer, you will end up eaten by mosquitos and other bugs. To prevent this and remain comfortable, wear copious amounts of bug spray and reapply it when needed.
Ankle braces: Let's face it, as we age, it is harder to run out and play sports like basketball or tennis. With one slip, you can hurt your ankle and wither in pain for days. To avoid an ankle injury, buy an ankle brace and wear it when you play sports like tennis or basketball.
Sunblock: It is easy to run outside and bask in the sun for hours. While enjoyable and beneficial, wear some sunblock. When putting it on frequently, you will avoid painful and dangerous sunburns. If you swim, choose a brand that works well in water, as you will want it to work under all conditions.
Helmet: If you ride a bike or skateboard, wear a helmet. One fall, even a minor one, can leave you reeling in pain and in the hospital. Wear it on any ride, as it is easy for people to forego this when they head down the street or to a friend's house in the area.
Sunglasses: The bright sun in the summer will hurt your eyes. If you are outside for hours on end, you will damage your eyes, especially if they are blue. With a new pair of sunglasses, you will protect your eyes and avoid long-term damage.
Knee brace: As we age, it is difficult to stay in shape and avoid injuries. With a simple yet highly effective knee brace, a rugged outdoor enthusiast will protect his or her knee. Otherwise, one slip can cause you to injure your knee and require surgery.
Bike lights: When on the road at night, you need a bicycle light. In fact, it is often the law and you can receive a ticket from the police. Luckily, with front and rear bike lights, you will stay safe and avoid accidents.
Cleats: When your kids play sports like soccer and baseball, they must wear cleats. When ill fitting, your child will suffer an injury eventually. If you test out the cleats and ensure they fit well, your kid can play sports without slipping or falling on the field.
Mouth guard: When playing dangerous sports like football, you need to wear a mouth guard. Otherwise, if you are hit in the face, you will hurt your teeth. To find one, head to a sporting goods store and buy one that fits. When wearing one, you will protect your teeth and avoid a painful injury.
Water bottle: You need to stay dehydrated throughout a hot summer day. To stay comfortable, carry a water bottle or two and sip from it during the day. If you notice any signs of dehydration, seek medical attention immediately.
With these 10 must-have items, you can protect yourself in the summer. It is a dangerous time of the year when you play sports, as you will deal with the elements and plenty of other obstacles.
Would you add anything to the list?