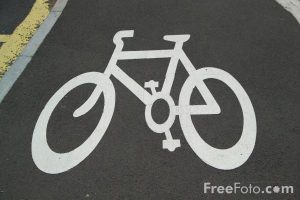 Adventures might not be the right word since I haven't actually ridden a bike this year.  Actually, I haven't ridden a bike in 8 or 9 years but I do own a mountain bike that I bought when I was still single and it is in great shape.  It's the only vehicle we own that we can say is garage kept!  I know, pretty sad but as you can see by my last post, I am not in the best physical shape.  I am not in terrible shape, but not in the kind of shape I want to be in and I am going to do something about it this year.
I have always enjoyed riding my bike so I decided to break it out today, clean it up and take it to the local bike shop for a tune up (the brake cables needed to be checked and the tubes are shot from sitting so long).   I wanted to get it ready because we are hoping to turn bike riding into a regular family activity.  I have some friends that are really into mountain biking but I think that would be too jarring on my back so I am perfectly happy settling on trail and road riding.  If I can get into good enough shape and strengthen the muscles around my back, I may see what all this mountain bike stuff is about but I have to get into better shape first and foremost.
The kids got bikes for Christmas
My parents got my kids new bikes for Christmas, they were under our tree and from Santa Claus.  If you didn't catch the video I posted a few weeks back, we have it up on YouTube at my kids first ride on their new bikes.  The only person in our household that doesn't have a bike is my wife so I promised her, if we could afford it, we would buy her a bike after Christmas.  Luckily, we did end up with some nice Christmas bonuses this year so while we are at the bike shop, we picked up a new bike and helmet for her.  It's not a brand new bike but it's new to her and in really good shape.  We were able to save a nice chunk of money (almost $100) by getting her a used bike.  They had a used bike that she liked that would have been $269 but used we were able to get it for $179.  While we were there, we also picked up a new bike rack since we had no way of transporting all of our bikes without one.  It is amazing how things add up.  We got a great deal on the bike but ended up dropping more on the bike rack that we can't use yet because I need to install a hitch on my car first.  It's like anything in life, you think it's going to cost you one thing and before you know it, you just spent twice as much as you wanted.
We aren't in the best financial shape but things are getting better and I think the money was well spent.  My wife and I are both committed to losing weight and get into better shape this year and these bikes are going to be tools in that process.  Hopefully they will also be a lot of fun and help us build fond family memories but the main goal is to use them to get into shape.
Family bike rides
As long as the weather works in our favor (no rain), we plan on going for a family bike ride each weekend.  Of course, we won't be able to get a lot of exercise riding with the kids but we can both take turns riding with a bit more vigor while one of us stays behind to hang with the the little ones.  We are also hoping to take the occasional unfettered bike ride with no kids if we can manage to co-ordinate it with a sitter or the grandparents.  In addition to all that, once I have the bike rack installed, I plan on taking my bike to work and going for a ride every day at lunch.  I am sure I can get in at least a 30 minute ride each day over my lunch break and every little bit of exercise helps.  I am adding this to my existing "getting into shape" plan that I posted about earlier this week.
Are you a bicyclist? Do you go riding as a family?