We've all seen them advertised. We've all been asked at checkout if we are a member of a store's membership or discount program. But are store reward programs worth it?
My answer is, yes! Hands down, they have been wonderful for my family. However, I can't say that without adding a warning label.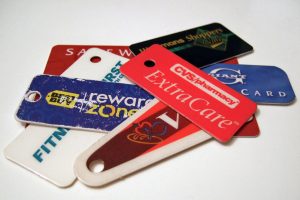 Buyer Beware
Store reward programs have two main purposes.
To upsell or increase your spending level with coupons, rewards and promises of future savings.
To target a store's marketing campaigns to your interests by tracking your purchases, analyzing market trends and having access to your communication channels. This could be through printed coupons, direct mail flyers or even smartphone app notifications.
Make sure you are aware that when you sign up, you are giving them permission to track your shopping and contact you. If you have any privacy concerns, do not sign up. They will contact you and they will target you with their marketing campaigns.
Tips and Tricks
While the coupons and rewards are great, it is up to you, the consumer to be aware of the psychology behind the marketing ploys involved in reward programs. There are a couple of rules of thumb to follow to stay on track and get the most rewards for the least amount of spending.
Don't buy what you don't need. No matter what the "special offer" is. I attended a class on couponing a few years back. I thought it would be a great way to save money. It was sorely disappointing. The teacher saved tons of money on her shopping. BUT she bought a TON of stuff she had no use for, spending time and money on things that were not applicable to her life. That is counter-productive to me.
Shop on special days. Find out if your favorite store has "double reward" days or trending days and break up your shopping over that timeframe. Some offer bonuses like gift cards for spending a specific amount of money within a designated timeframe. I know our local Ingles Advantage Card offers double gas points on Tuesdays and Tanger Outlets' TangerClub lets you track receipts over a year to earn gift cards. These can add up!
Track expiration dates. Rewards are great, but expired rewards, not so much. Make sure you read the fine print and are aware of how long you have to use a reward. Some expire monthly; others have specific dates. Many clothing stores offer "bucks" where if you reach a particular spending amount, you can return later to redeem "free" or special discounts on additional shopping. I know Dress Barn, Lane Bryant and Kohls all have programs like this.
I love reward programs. They have made a huge difference for my family when living on a strict budget. And I will admit they do influence where I choose to shop at times. But always weigh the cost of what you are purchasing against your budget and needs — don't just buy because of a dangled reward!
Tell me about your favorite reward programs. What's your favorite earned reward?