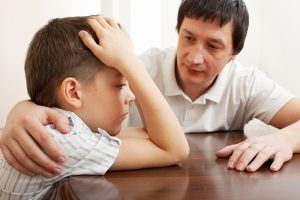 A serious illness in the family, especially that of a parent or grandparent, can have a terrible effect on the children. Often, however, those taking care of the children in the middle of such tumult aren't sure how to help them cope. It's important to know what to do, however. When children don't receive the help that they need, it tells on their emotional health.
Offer good, regular information
Grown-ups often attempt to shield children from the difficult emotions of these situations by keeping information from them. The problem with this approach is that children do know when there is something serious is in the air. Not really knowing what it is 'does not shield them'; instead, it makes it harder on them.
Children do need information, even step-by-step updates each day, explained to them in simple terms, if possible. When children know that they are in the loop, it helps them feel more in control.
Help younger children in special ways
Very young children cannot really understand complex situations such as illnesses in the family. They do catch the fear and uncertainty in everyone's voices, however. Trying verbalizing can help your child. Children take great comfort in simply saying the words out that they love or miss the person who is sick. In families that are religious, praying can be a meaningful way for a young child to find comfort.
There should be regular hospital visits
The more the children of the family are taken to the hospital to visit the ailing loved one, the better able they are to mentally deal with the challenges involved. If an actual visit to the hospital is hard, it's important to at least allow phone calls.
Offer consolation and comfort
An illness in the family may be a sad and scary event, but children are capable of handling the challenges involved. They do need plenty of hugs and alone time with a parent or grandparent, however.  They need to be able to draw emotional succor from them. It's important to schedule at least a half hour of quality time with each child. This could be time that is spent together sharing a fun activity like the Coloring Book for Me & Mandala coloring app, a game or a well-loved TV show.
There needs to be structure
When there is a family member going through a terrible time, it can throw reliable, well-loved family routines into turmoil. The loss of a routine can be a terrible thing to a child and can take away a sense of confidence in life. This is where it helps to have one parent or grandparent do their best to keep the family routine going — school, meals at the right time, going to bed at the right hour and so on. It can contribute greatly to the children's morale.
To the mind of a child, if basic, everyday routines are unaffected, it stands to reason to think that there can't be anything that wrong with their life. Routine, in fact, is something that can help grown-ups as they deal with uncertainty and grief, as well.
Photo: Florida Counseling Centers
Get Your FREE Book Now
Get a copy of "Teach Your Kids About Money," a Kids Ain't Cheap ebook, FREE by signing up.