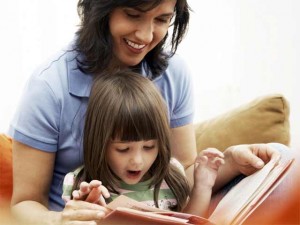 Many stay at home parents sacrifice their careers so they can stay home to raise their children.  Depending on the number of children you have, staying home with them can save you money because day care and after school costs are so high.
A stay at home parent can help trim the budget in a myriad of other ways such as cooking all meals at home, cleaning the house (so a housekeeper is not needed), couponing, and making items such as household cleaners from scratch.
However, even when cost cutting measures are taken, living on one income can be tough.  You may reach the point where you need additional income to make it.  Don't automatically assume, though, that you'll need to return to work full-time.  Depending on the amount of extra money you need, you may be able to work from home to make more money.
Consider some of these tasks you can do without making a commitment to a traditional job:
1.  Take surveys.  You definitely won't get rich with this strategy, but if you just need an extra $100 or $200 a month, you can sign up with several survey companies and take surveys in the evenings after the kids are in bed.
2.  Collect scrap metal.  If you live in a state that offers a bottle return payment, you could make a surprising amount of money picking up cans and returning them.  Businesses can benefit from a similar method, by recycling their scrap metal. Industrial manufacturers, suppliers, or businesses working with metals, can invest in scrap metal recycling equipment to efficiently process the waste while getting a return
3.  Be a mystery shopper.  If you're a mystery shopper, you'll likely get to keep the things you purchase and you may be paid a small stipend.  Again, you won't make a fortune here, but you can save money by shopping for items you need.  For instance, one blogger got a mystery shopping job evaluating a local oil change company.  She got free oil changes for two years!  That alone will save some money over the course of a year.
4.  Take advantages of freebies online.  The web is filled with freebies online.  You can use Ebates and get cash back every time you shop online.  If you buy groceries and other items on Amazon, for instance, you can get money back for that.  When you search the Internet, try using Swagbucks.  When you accrue enough Swagbucks you can cash them in for a variety of gift cards including Amazon cards.  Over time you can save a significant amount of money.
5.  Enter giveaways.  Enter online giveaways.  If you win, you can either keep the items or sell them for profit.  Some of the items you win can be used for birthday or Christmas gifts for your kids.
If you're already cutting corners but still not making it financially, consider taking on some of these side jobs to bring in more money.
If you're looking for more ideas on how to make some extra money check out these other great articles.
Ideas on Making Extra Cash as a Single Mom
Three Things You Can Do to Make Money for Christmas
Living On Very Little Income? Here Are Some Basic Considerations.