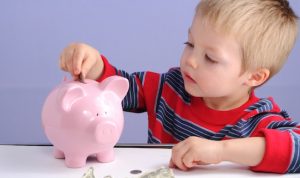 With the majority of high schoolers having virtually no concept of how to manage money, it's no wonder that today's generation of young adults are getting into more debt than ever before. From budgeting to debt consolidation, there's a huge array of money-managing skills today's teenagers should be aware of but simply aren't.
Poor money management can result in many unexpected consequences that will affect both your life and health so, for your children's sake, it's vital you teach them basic concepts of money from a young age to put them in the best possible position to make a stable financial future for themselves. So, if you're keen to get your kids understanding all things money-related but aren't sure what's appropriate to be teaching for their age, here are some top tips on how to raise your children to be good with money.
Age 3-5
Age 3 is a good place to start teaching your kids about money as, if they're any younger, they're simply too underdeveloped to understand the concepts you're trying to get across.
At this age, money is simply something visual to them. So, one of the best tools you can use to begin your teaching is a clear jar your kids can drop loose change into. Your child will solely focus not on the value of the money inside the jar but the shape, weight and actual sight of the money in the jar.
Whilst you may not necessarily be teaching your kids much at this age, you'll be successfully introducing them to the overall presence of money in their lives.
Age 6-13
At the younger end of this age bracket, money will still remain solely visual but, as your kids get older, the actual value of the money they're seeing can be understood.
You can now start introducing the concept of doing important jobs around the house and getting paid which, when it comes to the world of work, is a vital concept your kids need to learn. But it's still important to ensure your children still do basic chores such as making their bed and picking up toys without expecting a monetary reward.
Saving and giving can also be understood at this age so, if your child desperately wants something, encourage them to save their own money as opposed to buying it for them.
Age 14+
This is where the big money lessons start coming in. As a teenager, they're old enough to process the concepts of bills and debt so, if you need to consolidate your cards, don't hide it from them. Be honest and open with them with financial figures (as long as it's appropriate), and they'll automatically learn from observing how you deal with important financial situations.
Taking control of finances is something every modern-day person needs to learn but, if it's not taught from a young age, it can be almost impossible to fully grasp as an adult. So, by starting early and equipping your kids with age-appropriate money management skills, you're giving them the best possible start for their own finances as they grow up!
Photo: The Next Family
Get Your FREE Book Now
Get a copy of "Teach Your Kids About Money," a Kids Ain't Cheap ebook, FREE by signing up.