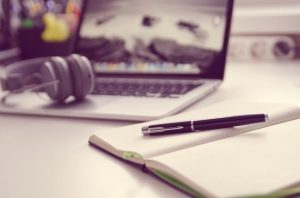 Today there are so many businesses you can start for very little money. This has made being a small business owner a very popular choice – especially for stay at home parents! However, just because it's easy to get your business up does not mean it's easy to actually make money.
As a small business owner I can tell you that your attitude will most likely determine your outcome. However, there are also some technical aspects that you should pay close attention to along the way.
Here are five tips to get your business off the ground.
Start Small
Once you have your business idea you need to make a plan. I don't mean the normal kind of stuffy business plan but instead you need to map out your expectations for your business over the next several years.
After you have your goals set you need to decide how you're going to reach those goals. Make a list of small daily steps that you can take to get you in the right direction.
It's better to take small consistent steps than it is to try and do too much and set yourself up for failure.
Get the Right Help
Having the right help is pertinent for business growth. Many small business owners make the mistake of trying to do everything themselves, which we all know just isn't possible.
There are tons of places you can find good help for your business. If you're a UK reader you can find necessary personnel through this service by posting a job. If you're a US reader you can find virtual help online or advertise a job opening through word of mouth. The possibilities are endless. It is important, however, to have a very good screening process for new hires.
Having the right employees can catapult your business to success.
Be Consistent
Consistency is important no matter what business you're going into. If you're not consistent with your efforts then you're not going to get very far.
Like I said above, your attitude will determine your outcome. You're going to face plenty of ups and downs in your first few years of business. Your ability to preserve and stay consistent will help determine your rate of success.
Keep a Tight Eye on Your Financials
For a new business money can be tight. Remember, your business is an investment in your life. You need to be analytical when it comes to incoming and outgoing money.
Constantly monitor your expenses and income and determine if there are changes you need to make at various stages in your business.
Don't Give Up!
It can take a while for you to get your new business off the ground. If you take small steps toward your goal every day, find a team, constantly monitor your expenses, and keep your consistency, you'll make it.
Expect minor setbacks but if you can get past those everything will work out.