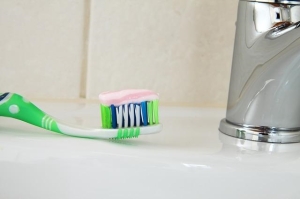 It's so important to develop good dental hygiene habits at a young age but as a parent I'm sure you know that's easier said than done!
When it comes to dental hygiene many kids are resistant and seem to think brushing their teeth in the morning is the end of the world. Trust me, I've been there!
If you're having trouble getting your child to form good dental hygiene habits here are some options for you to try.
Teach Them the Consequences
You already know that having a toothache is one of the worst forms of pain, but your kids probably don't know that.
Sit your children down and teach them what happens when they don't take care of their teeth. Show them pictures and tell them stories from your own experience. You can also show them videos on YouTube of children teaching children how to form good dental hygiene habits.
Kids don't realize the importance of keeping up great dental hygiene until they understand the consequences.
Make It Fun
Whenever I try to teach my kids anything I always put a big emphasis on making it fun.
My daughters like to brush their teeth the same time as I do, always mimicking what I'm doing. We've also sang songs while they brushed and used timers to make sure they were brushing long enough.
Look for ways to make your dental hygiene routine fun. This is especially important to do in the beginning. After a little while your kids will get into the habit of taking care of their teeth and mouth and you won't have to spend any more time making this a fun experience for them.
If you make dental hygiene a little less boring and set a good example, your kids will follow.
Get The Right Products
Do you know what really gets my kids excited about dental hygiene? A new toothbrush and toothpaste.
Right now they're both enjoying brushing their teeth every morning with a light up, timed Hello Kitty toothbrush. They're also both very particular about what toothpaste they use so I make sure I keep a good stock of their favorites.
You can click here to visit Chemist Australia and check out some fun dental products for your kids.
Conclusion
By teaching children the consequences of bad dental hygiene, making learning fun, and giving them products catered to their age group, you'll have a much higher success rate of having your child develop good habits.
These three tips are easy to implement but can make a world of difference!