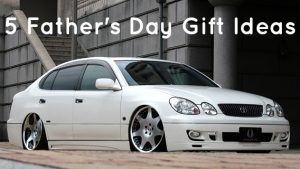 With Father's Day approaching this weekend, kids all over the world will be preparing to celebrate their dads in their own special ways. Growing up I remember decorating neck ties and coloring pictures in school. Though any dad would appreciate the effort behind a hand-made gift, sometimes dad also want a little pampering and gifts.
Car Detailing
I included this on my Mother's Day gift idea as well, but think dad would love it too. Everyone loves getting into a new car but after a while of living in it, the new car luxury is taken over by dirt and crumbs. Dirt has a way of finding its way into tiny nooks and crannies within your car. A professional car detailing will restore your car to new-car condition  for a fraction of a new car cost! Some professional detailing will just do the interior while others will do interior, exterior and engine. Book one you think dad will love and always check online coupon sites to see if you can score a deal.
Electronics
Some dads like computers, some are into iDevices and other like gaming systems. Whatever your dad is into, check local sales and see if you can score a deal. Remember to check refurbished products as well since they are usually available at a fraction of the price and often still with a warranty.
A Good Steak or Lobster Dinner
Sometimes a dad just wants a good feast and a good steak and/or lobster would do just that. For a dad who loves to grill, heading to a local butcher for your dad's favorite cut is a nice gesture and won't break the bank. Lobster may be pricier depending on where you live but another nice meal option.
Alcohol
If you're dad likes to enjoy a drink, buying him a bottle of something special is always a nice idea. If he enjoys beer, maybe buying a few cans of a specialty beer would be a treat. For the hard-liquor drinker, a small bottle of something unique, or a tested favorite, would be well received. There are many options when it comes to wine, asking for a recommendation at the liquor store will point you in the right direction.
Needs
Sometimes dad would love to get something he genuinely needs. It doesn't have to be anything extra special but would be much appreciated. If you're stumped for what to get him asking him what he needs wouldn't be inappropriate. If he doesn't give you much direction, look around and see if anything needs replacing. Is his 10-year-old wallet being held together with duck tape? He may not need a new wallet, but would likely appreciate one.
Taking time out of your day to tell you dad you appreciate him, and all that he does, is the most important thing you can do for dad on Father's day. If you can't be with dad on Father's day, make sure you send a card or call, I'm sure it will be appreciated.
What are you getting your dad for father's day?