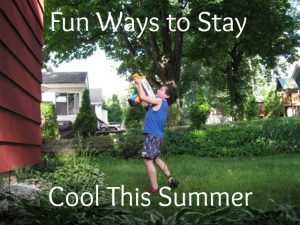 Summer can be an expensive time. While we're no longer paying for heating expenses, the A/C units or fans are usually at full-blast working overtime. Two weeks ago, we went though a week of intense heat. At 11pm, it was still 33 degrees Celsius outside (91F). Sleeping was difficult as was getting cool during the day. While my husband and I can deal with the heat (and I use the word "deal" lightly) I was most concerned about our little 13 month old staying cool
For kids, staying cool in the summer is as much about necessity as it is fun. While visiting a friend of mine recently, her two older kids (aged 9 and 11) we're parked inside at the kitchen table where they were seeking refuge in front of the window AC unit. While this is ok once in a while, just because the days get warm, it doesn't mean all summer activities have to stop! Here are a few ways to stay cool in the summer:
Water! Slap some sunscreen on and break out the sprinkler! I've lived on my street for three years, with many young families and have never seen kids running through the sprinkler. Did this fad run out in the 1990s? If your kids are too young for sprinkler opt for a kiddie pool or water table. Our little one loves splashing water and throwing stuff in the water of her small stand-up water table. Cheap, easy entertainment while still enjoying the summer. If all else fails, check out a local community pool. 

Shade. Trust me, I know, some days even shade doesn't cut it but plan a day that involves shaded activities only. Out of ideas? Built a fort outside with sheets to play in! You're protected from sun yet burning off some energy while enjoying fresh air.

Walk inside. If you need the AC try getting exercise at the same time. Super hot summer days are a get excuse to go to the mall…for a walk. Malls are air-conditioned and have great wide halls that make a great walking path. If a true shopping trip isn't in the budget, go to the mall and maybe grab a small treat like an ice cream at the food court. As long as your child knows the stipulations for the trip to the mall, whining should be limited when they can't get the t-shirt/teddy bear/cell phone that they neeeedddddd!

Cool treats. Experiment with fun, cool healthy treats. Freeze smoothies into popsicles, eat some frozen fruit or jazz up water with frozen fruit for added flavor.
Hot summer days doesn't mean all fun has to be zapped. While it is more difficult, it isn't impossible to find fun cool activities to do that won't break the bank.
What are your favorite ways to stay cool this summer?