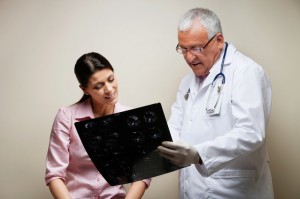 Maintaining good health is essential throughout our life, but as we get older it becomes more and more imperative. Many diseases and illnesses can be avoided by properly maintaining health, whether that is by eating right, maintaining a good weight, or keeping essential exams for individuals over the age of 40 up to date. There are a couple health exams that men and women over the age of 40 should get to ensure lasting health.
Blood Pressure
A leading cause in death of both men and women over the age of 40 is heart disease. There are often times no signs that lead to high blood pressure, so it is important for men and women over the age of 40 to get their blood pressure checked regularly. The only way to truly know whether an individual has high blood pressure or not is to get their blood pressure checked. If high blood pressure is found and proper steps to treat it are taken, it can greatly reduce the risks of stroke, heart disease and kidney issues.
Measuring Waist Size
Health risks greatly increase for individuals who are overweight, whether it is mildly overweight or severely overweight. Women who have waist sizes greater than 35 inches or men who have waist sizes greater than 40 inches are at health risks such as heart disease and diabetes that average weight individuals typically are not. Keeping waist size in check can reduce these health risks significantly. If an individual's waist size does get in the risk category, a doctor can help get that individual on the right track to weight loss to get in the healthy weight range.
MRI
Men and women over the age of 40 who experience chronic headaches should have an MRI performed. Chronic headaches can have a wide array of causes, but an MRI can narrow those causes down. By having an MRI performed, individual's can not only learn the cause of their headaches, but also learn whether or not brain surgery to reduce the headaches is needed. Cortical thickness that is reduced on the brain can be the cause of chronic headaches. If the thickness is extremely reduced, brain surgery can sometimes be needed to give the individual relief.
Cholesterol
High cholesterol can have negative impacts not only on an individual's heart, but also their overall cardiovascular health. Having a test run at the doctor's office to determine good cholesterol and bad cholesterol is essential to keep an individual's heart and cardiovascular system healthy.
Blood Sugar
Diabetes is also one of the leading causes of death in both men and women over the age of 40. A simple blood sugar test at the doctor's office can determine if an indbloodividual either has diabetes or is in the pre-diabetes stage. Not only is diabetes also a leading cause in death, but it is also a leading disease in the cost to maintain it. Although all cases of diabetes are not avoidable, it is much easier to stay healthy and eat right to reduce the risks of developing diabetes than to live life trying to maintain it.
Both men and women over the age of 40 can keep their health in check by having these five essential exams performed. The best way to maintain lifelong health is to take steps to avoid illnesses that can be avoided.