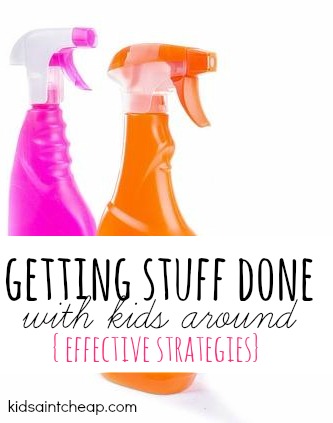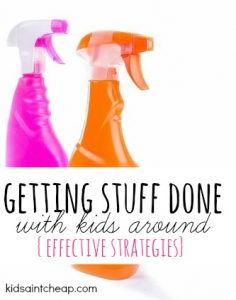 When you have kids it can be impossible to get things knocked off your to-do list. Especially if they're in the toddler and young school age, when they crave interaction and playtime with someone else. If you don't have multiple children you're likely the playmate of choice and we as parents can struggle sometimes with the need to get things done while giving our children the attention the need and deserve.
While there are many cute saying about ''messy houses but happy children'' floating around, the fact remains that sometimes we need to get stuff done! Houses need to get cleaned, errands need to be run and honestly this stuff has to happen before kids go to be sometimes. It doesn't make us bad parents to trying to accomplish these tasks either.
Capitalize on nap-time!
If you're fortunate enough to have kids who are still napping, use the time to your advantage, prioritizing the tasks you'd rather not have them around for. Stuff like general tidying isn't the best use of time rather do something like meal prep or make phone calls. While it is tempting to sit back and relax (absolutely nothing wrong with this either), you'll thank yourself when your most nagging tasks are completed.
Use the TV…wisely…
I 100% admit to using TV (or Netflix, or a game on the computer/tablet) to temporarily occupy my daughter while I need to get something done. She's getting to be old enough now that she understands that if I say I need her to do (or not do) something she'll listen, but sometimes I need 20 minutes to get a task done and I need her well contained, so on goes a short show or few minutes of a movie. If you don't have a TV or Netflix and game or even YouTube can entertain for a few minutes.
Involve them
How involved you make them will depend on age but I find things like grocery shopping much easier if I ask her to help than expect her to stay contently contained in a metal cart. I usually give her a few specific things I need her to find and make a game out of it. Same goes for cleaning up, I'll ask her to put her toys away or help mommy pick up anything ''red'' or something to that effect.
Get childcare
There have been a few days I had off but opted to have her in daycare for half a day or full day. I try and use these days for all appointments or errands that may be too challenging with kiddos running around (try bathing suit shopping with a cranky three year old…) for example!
While you kids need attention so do other aspects of your life. Some people are perfectly content to let everything pile up until the kids are firmly in bed but that isn't always realistic. Also, when kids are in bed for the night it's often the only time parents can truly relax, something that is well deserved. There is no perfect balance in life but you're not a bad parent if you try and accomplish necessary tasks while your kids are around, it can make for a learning opportunity too.
How do you manage to get things done when kids are around?