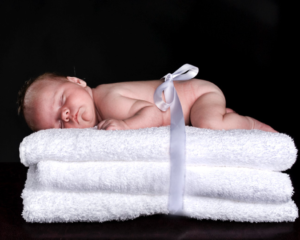 If you know someone who is welcoming a new baby into the world, you undoubtedly want to give this person something special to commemorate this joyous event in their lives. However, shopping for new baby gifts that are both useful and meaningful might prove to be costly as well as challenging.
Here are baby gift ideas that won't hurt your pocket:
Make a Homemade Baby Book
One of the most cherished kinds of baby gifts are homemade baby books. Homemade baby books are colourful scrapbooks that you can make with various materials from an arts and crafts store. Add pages such as, "Hospital Band," "First bath," and "First smile," so the scrapbook allows the parents to secure photos and memories of their little one in a creative fashion.
Disposable Diaper Cake
When you give someone a disposable diaper cake as a gift, you kill two birds with one stone; the cake serves as a beautiful table centerpiece at the baby shower, and it's very useful for the momma since she'll need as many diapers as she can get in those early months.
Gift basket
Purchase a gift basket containing organic baby items. Usually, these baskets are in a form of baby gift hampers. This is one of the best gift options that you can get for the newborn. These organic gift items are made from the best quality organic materials. They are adequately soft for the baby's requirements. A great organic baby gift basket can include burp clothes, and dress materials made of organic cotton; anti-allergic stuffed toys; few teethers which help the baby in easing early teething pain, bibs, socks, towels, reversible blankets, leggings, and socks. It can even include some surprises for the mom and dad.
Personalized clothes
There are places that sell personalized one pieces and other types of clothing. It is adorable to dress your baby in clothing that has their name spelt out on it. A personalized outfit is adorable as a take home outfit.
Handmade items
Why buy the usual baby products that anyone can find at a department store when you can buy something 100% original and handmade? You'll find everything from handmade toys to baby blankets on crafty websites.
Professional photography
Give new parents the gift of photography so that a professional photographer can document this important moment in their lives. You can as well give them a gift card for a photo website like Shutterfly or Flickr, which will allow them to store and share those precious memories on the web.
Gifts for Mom and Dad
When most people buy new baby gifts, they think of buying something for the baby, but they forget about mom and dad. If you actually want your baby gift to stand out, give the parents something special that will help them out in the early weeks, such as housecleaning services, spa gift certificates, or pre-made meals. If you're operating on a tight budget, you could even create homemade coupons for babysitting, cleaning, and cooking services so that the parents can have you come over and help out when they're feeling especially frazzled.
By thinking outside of the box and beyond clothes, diaper disposals, and the usual new baby gifts that people buy, you can ensure that your presents will stand out from the pile. Choose gifts that will serve as a keepsake or that will give the new parents peace of mind in the early days of parenthood to make a lasting impression.
Like Us? Sign Up!
Subscribe to Kids Ain't Cheap and get our latest content via email.