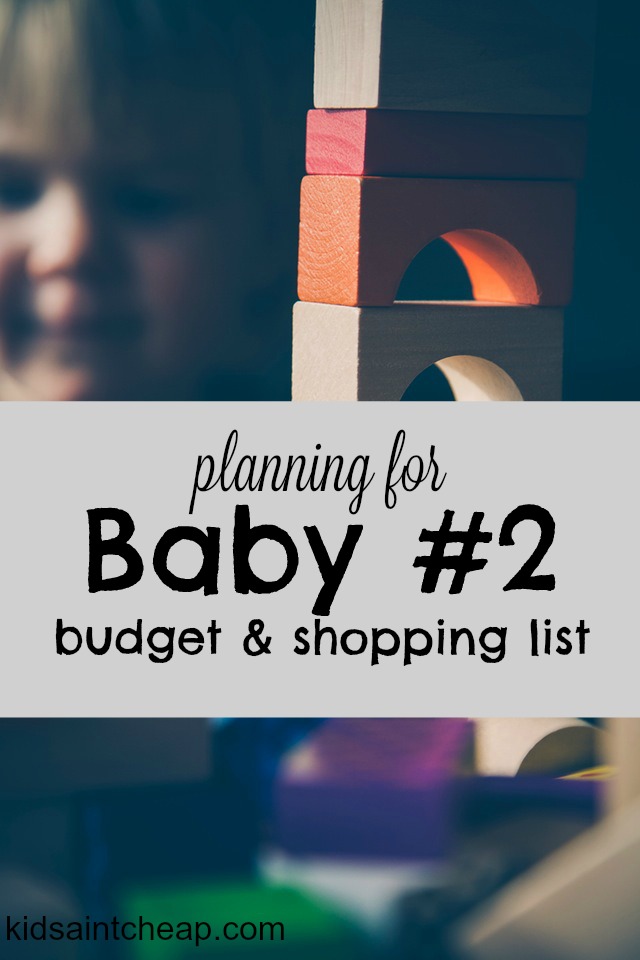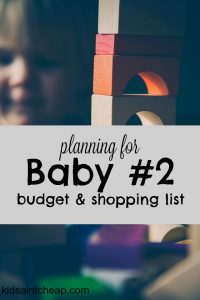 We finally announced that we are happily expecting baby #2 this year. If all goes well, by Christmas this year we'll officially be a family of four. Our daughter, who just turned four this month is beyond excited and all to ready to start prepping for baby– more than mom and dad I think!
Thankfully we held onto a lot of stuff from our first pregnancy which saves on what we need to get for baby #2. There were a few things though that either didn't make the journey with us or quite simply didn't work as we had hoped and really need to replace. I'm hoping that we'll be able to get everything we need for less than $500.
Maternity Clothes: $150
This pregnancy is the opposite season of my first. My first was due in June, this baby is due in December. This of course means most of my seasonal maternity clothes don't make sense or I just don't have. I didn't need to buy maternity summer clothes with #1, where I can no longer fit into any non-maternity summer clothes. Given that I'm in scrubs most of the time (something else that doesn't fit great anymore), I needed to buy some summer items. I decided to buy two pairs of shorts and a few tops (which I don't need quite yet) on clearance.
I waited until I had a 40% off coupon and bought two pairs of shorts at one of the only maternity stores in town (we don't have anything like a Target and none of our WalMart's carry maternity items so we're forced to shop at maternity clothing stores which are crazy expensive).
I tried our local thrift stores first with no luck at all. I also thought I could get away with buying a few bigger sized shorts at a cheaper store but had no luck there either. In the end, the shorts were $45 each but I had the coupon which helped. The tops were bought only because I knew I'd need them in a few months and were on clearance for $10-20 each. I also bought a maternity dress on clearance in preparation for a wedding I'll be attending in the fall at 6.5 months pregnant.
When this pregnancy is done I also plan on selling all my maternity clothes to help the cost a bit!
New Crib Mattress: $120
I was hoping we wouldn't need to buy this but after looking at our current crib mattress, which our daughter used for 3.5 years it's not in great shape. It's quite stained and I think one of the springs is broken (possibly from toddlers jumping on the bed while trying to escape?).
I found a really nice organic one at Marshalls recently that was on sale from $220 for $99. I'm hoping one will be there in a few months when we go to buy. Worst case, there's always Costco which sells them for $100 year round.
Breast Pump: $100 (or less)
I have every intention of breastfeeding again as I did with our daughter for 14 months. I had a pump, lent it to a friend and she accidentally broke it. She felt pretty bad and ended up giving us some gift certificates towards the purchase of a new one despite be trying to tell her not to worry about it.
I think with the gift certificates and sales that are ongoing, $100 is more than enough. I may also be able to borrow one from another friend who's been having breastfeeding issues but has a very expensive high-end pump that we could just buy new tubing to.
Diaper Bag: $45
We were given a diaper bag with our daughter which I used literally until she was out of diapers and didn't have to worry about an outfit change every outing we made. Some people don't use them but I loved having the dedicated bag to our daily needs to take a quick notice. Near the end of it's life though the zipper tore off and though I had intentions of having it repaired, when I went to look through our baby stuff recently I couldn't find it. I did eventually crumpled up in a ball in the corner of our damp basement storage room full of mold.
I'm not storing our new baby stuff in a broken moldy bag so I threw it out. As fate would have it, I found a really nice bag online through Zulily at a great price. The bag normally retails for almost $200 but they were selling it for $35 plus $6 shipping. I haven't received it yet but it's reviewed very well so I'm sure it will serve our needs just fine.
Infant Car Seat: $85
Since car seats expire we need a new infant car seat. We happened to be in a store recently while they were marking down their infant seats (50% off) from last year's fabric pattern. We scored a new infant car seat for $80 and it's compatible with our current stroller.
Planning for baby #2 is definitely less stressful than your first that's for sure. I'm glad we held onto as much as we did and won't need to but much beyond what's already listed!
How did you plan for baby #2?