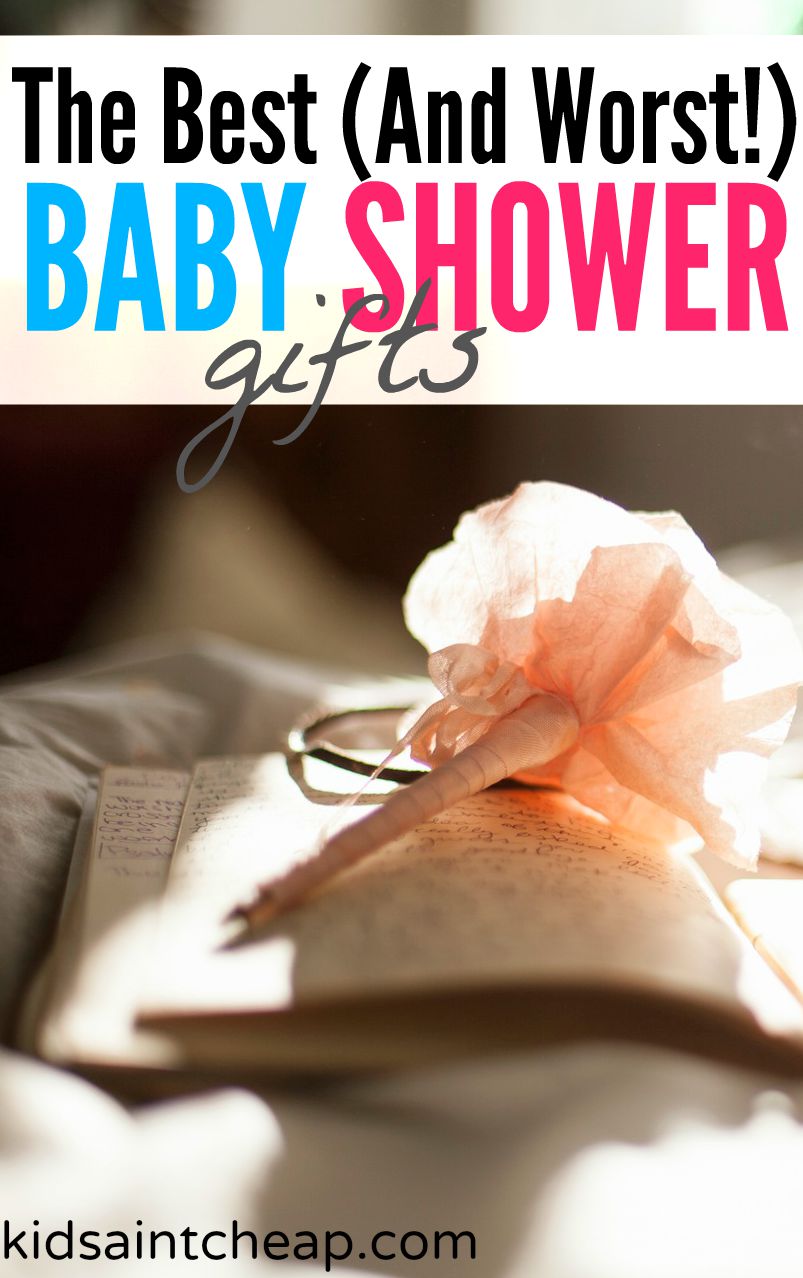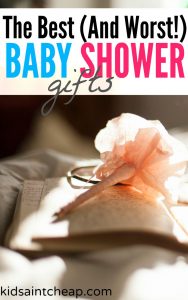 Baby showers. Some love them, some hate them. While I love buying things for little people, I dislike attending baby showers. Nothing against the expecting family, I really just hate everything about traditional baby shower games. I'm at the age where there is a stark increase in the amount of showers I get invited to though.
Between the number of showers I've attended, and the ones I've been on the receiving end of, I feel like a bit of a baby shower expert and I'm here to give you my opinion on the best, and worst baby shower gift ideas.
Best Baby Shower Gift Ideas:
Restaurant gift certificate
No matter what kind of birth you have, the perfect natural drug free delivery or complicated c-section, no new mom, experienced or not, feels like cooking in those early days. Life is chaotic and having a gift certificate or two to fall back on is a huge help!
Clothes the kid can grow into
Too many people will show up with exclusively newborn clothes, having a few outfits/PJ's in larger sizes the kid can grow into is always appreciated. Kids grow fast so they'll get into that cute outfit sooner than you think!
Burp pads/wipes
Newborns make an insane amount of mess. They vomit and spit up everywhere, all of which requires being cleaned up. No mom can have enough burp pads/wipes/bibs for kids since they will go through about 25721 per day. They also get stained beyond recognition and eventually tossed so don't spend too much money on them.
Diapers
Kids need diapers in many sizes. Find out if they plan on using disposable or cloth before buying though, and even if they get a lot of diapers, it is gift always well appreciated.
Worst shower gift ideas:
Nursing Bras
Unless you're in the change room with the new mom there is no way you'll get this right. If you think it's a gift mom would like and want though, get a gift certificate instead.
''Inappropriate'' baby clothes
Babies, especially newborns are messy. They do not need fancy, expensive and fussy clothes! You are literally wasting money in spending in this, no matter how cute. Same goes for newborn shoes. Unless the kid is walking (usually past 1 year) they don't need shoes with proper soles. Even in the winter, small children don't need them, most young snowsuits will take care of foot coverage.
Non-seasonal baby clothes
Find out when the kid (should) be born before buying seasonal clothes. If the child is born in December there's a good chance they won't still be in newborn size swimwear come July. Pay attention to sizes when buying such items.
If the parents did a registry, look it up. Chances are they spent time to figure out what would work and need for their family. Sometimes, showers aren't they best time to be reinventing the wheel so-to-speak. If they took the time to research a monitor they liked for example, don't bother buying a different one because you liked it more, there's a good chance it will end up getting exchanged.
It's not to say new moms thought of everything though. As a mom myself there were things I received from experienced friends and family that I never would have thought of and were so appreciative of, these are things I will sometimes pass on to my friends if I think they'll benefit from.
What is your favorite gift to give for a baby shower?