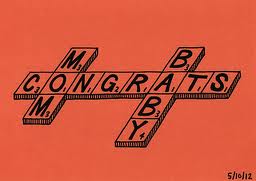 There is always something new and exciting coming out on the market. Since having the boys — I've seen cribs, toys, clothes, etc. and thought, "I would have totally purchased that for me (or the boys), if it had been available at the time!" Recently, I have stumbled upon a few items that I know I would have loved to have when I was expecting, and the days that followed — so I thought I'd share them with you.
The Baby Bullet
I made all the boys' baby food when they were little, and it sure would have been nice to have this little beauty. Of course, I did pretty well with my food processor, ice cube trays, and blender but the baby bullet would have made things much more simple. Especially when making smaller batches or to whip up something really quick without all the messy clean-up.
Since I was feeding two babies at the same time, this might not have been the best thing for me. I may have been working double time in the kitchen, but for parents of singletons it would be excellent.
The thing that impressed me most, were the containers. You can actually put the date the food expires on there. Way cool! I froze almost everything I made – since I made baby food in batches – but this would have been great for making oatmeal and rice cereal.
Designer Hospital Gowns
I was looking for something on line and I stumbled across designer hospital gowns. I had never heard of, or thought of such a thing but I thought they sounded like a neat idea. The first gowns I found were from Designer Mamas. These are the most stylish hospital gowns on the planet — no doubt. However — they are spendy for something that will probably only be worn a couple of times (about$130).
I'm sure they are made of very fine quality materials and worth every penny but at Kids Ain't Cheap, we are all about saving money so I went in search of a less expensive version. I found some really cute styles at Labor Looks for about one-third of the price.
To many people, this may seem like a frivolous purchase – and perhaps it is – but I would have loved to have a cute hospital gown to wear after the babies had arrived.
Another option – if you have any craft friends that know their way around a sewing machine – is to see if they could make one for you (maybe in exchange for extra baby holding time, once your little sweetie arrives). Then you can even pick out the fabric.
Nursery Sanitizer — The Germ Guardian
This is my favorite! I would have LOVED this and would have used it often. With one baby who used a pacifier – if for only that reason alone – this would have been fantastic. Plus, it works on bottles and toys and all kinds of things!
Is there a product you've seen that you think would have been great to have? Have you used one of the products I mentioned and if so what was your experience? Is there something you used as a new parent that you know you could not have lived without?