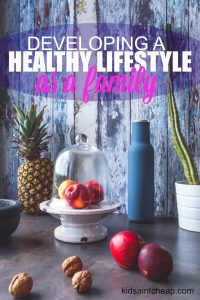 I want to start by saying I am by no means an expert in nutrition or pediatrics. I am however a mother and woman, to whom this is an important topic to me for many reasons.
Growing up as a young girl who was surrounded by pre-teen and teen magazines (thank God the internet wasn't mainstream yet), I was constantly comparing myself. I remember my first ''diet''. Basically as long as it was low fat or fat free it was ok to eat. So though I couldn't eat an avocado, sour candies were fine. I was probably around the age of 13/14 and working hard for a six-pack in the gym. It was ridiculous in hindsight.
Thankfully it was never really an ''issue'' for me. Though I was attempting to ''diet'' and was going to the gym with my friend (who at 13 was following weight watchers per her family doctors OK), my mom was an educated woman and made sure I was healthy. It actually encouraged her to start going to the gym as well, to quasi spy on me which then led to her own love affair with working out.
I don't know what it's like to be a young boy, I know boys must suffer from body issues like girls do but likely in a much more silent way. Body ''issues'' are a huge issue. Childhood obesity is also a terrifying statistic. I read an article recently about a pre-K student being diagnosed with Type 2 diabetes (no reference so maybe it wasn't true), but it's totally possible.
We live in a word of extremes and we as parents have to try and find a healthy balance. We don't want childhood obesity to scare the life out of our kids but we also don't want our kids suffering from body dysmorphic issues. We need a middle ground.
Healthy Habits Start at Home
Healthy habits definitely start at home and it doesn't need to be complicated. For us, we ensure that our daughter gets outdoor play every day (weather dependant) and on days the weather doesn't cooperate, we do fun stuff inside. Sometimes she works out with mommy and other times we have a 30 minute dance party. As long as she's having fun and getting exercise that's all we care about.
At just over three, she's also involved in helping me in the kitchen. She, like most kids are more apt to eat foods when they're involved with preparing it. For instance she insisted she didn't like pizza, until she made one herself (we use small whole wheat naan bread or Greek pita, pizza sauce and low-fat mozza cheese). She loves eating what she creates. Sometimes it's even just giving her the choice of side ''did you want cucumber or grapes as a side tonight?'' This allows her to have control of the choice without realizing the restrictions you as a parent put in place.
Kids Learn Through Example
Kids, especially young kids, learn so much by what they see in their environment. Our daughter knows mommy likes to go for walks so will often ask if it's something we can do together. While I'm sure she sees it as time together, she's also getting fresh air and exercise.
My experience as a parent as well, is that parents are scared to talk to their kids about obesity. They're nervous that it will embarrass their kids or make the kid think you think they themselves are obese. This simply isn't true and childhood obesity is a huge issue that needs to be talked about early on. There are many ways to bring up the importance of living a healthy life without traditional ''fat shaming''. Rather than teaching your kids to be afraid of something (obesity) educated them as to why it's important to be healthy.
If living a healthy lifestyle is something the family does together it will transcend to children organically. Kids who know healthy balanced lifestyles will continue to live one, and if they don't as they age, they will at least have the education to make informed choices.
How do you make healthy living apart of your family?